Last Updated on August 15, 2020
(Part 1 of The Medical City Clinic's Living With COVID-19: A Comprehensive Guide on Staying Healthy and Safe During the Pandemic – a series of practical tips and how-tos in navigating the ongoing Coronavirus pandemic.)
The COVID-19 pandemic is the largest public health crisis in a generation – and may well be the biggest to ever hit the Philippines. It calls for decisive, large-scale actionable plans to help reduce the spread of the virus.
The primary way COVID-19 spreads is through close contact between individuals. While there is more to learn about the disease, the virus (named severe acute respiratory syndrome coronavirus 2 or SARS-CoV-2) is known to be transmitted when droplets from an infected individual enter a person's mouth or are inhaled into the lungs. This may occur through coughing, sneezing or talking.
Social distancing can make it much harder for the disease to spread, as the droplets that carry the virus are unlikely to travel too far. However, there is still a risk considering that some experts suspect that COVID-19 can be transmitted through the air. But regardless of the modes of transmission of the virus, following orders by the national and local government to quarantine reduces the risk even more by reducing physical contact between individuals.
While there are some other factors that affect how the virus spreads, following the government and the health community's advice to stay at home – also known as "shelter-in-place" in other parts of the world – is one of the most important things you can do to help avoid getting infected or becoming a carrier of the disease.
1.1 When Living Alone
For those who are spending the government-sanctioned community quarantine on their own, the burden of being alone takes an increasing toll on physical and mental health. And as the pandemic drags on, a lot of people have to struggle not only with staying healthy and disease-free but also to cope with being isolated and physically distant from important people in their lives.
In these extraordinary times, we need to recognize that loneliness, just like the coronavirus, is a real health issue that we all need to address. To help you navigate through some of the challenges of living alone during the pandemic, here are a few tips for you.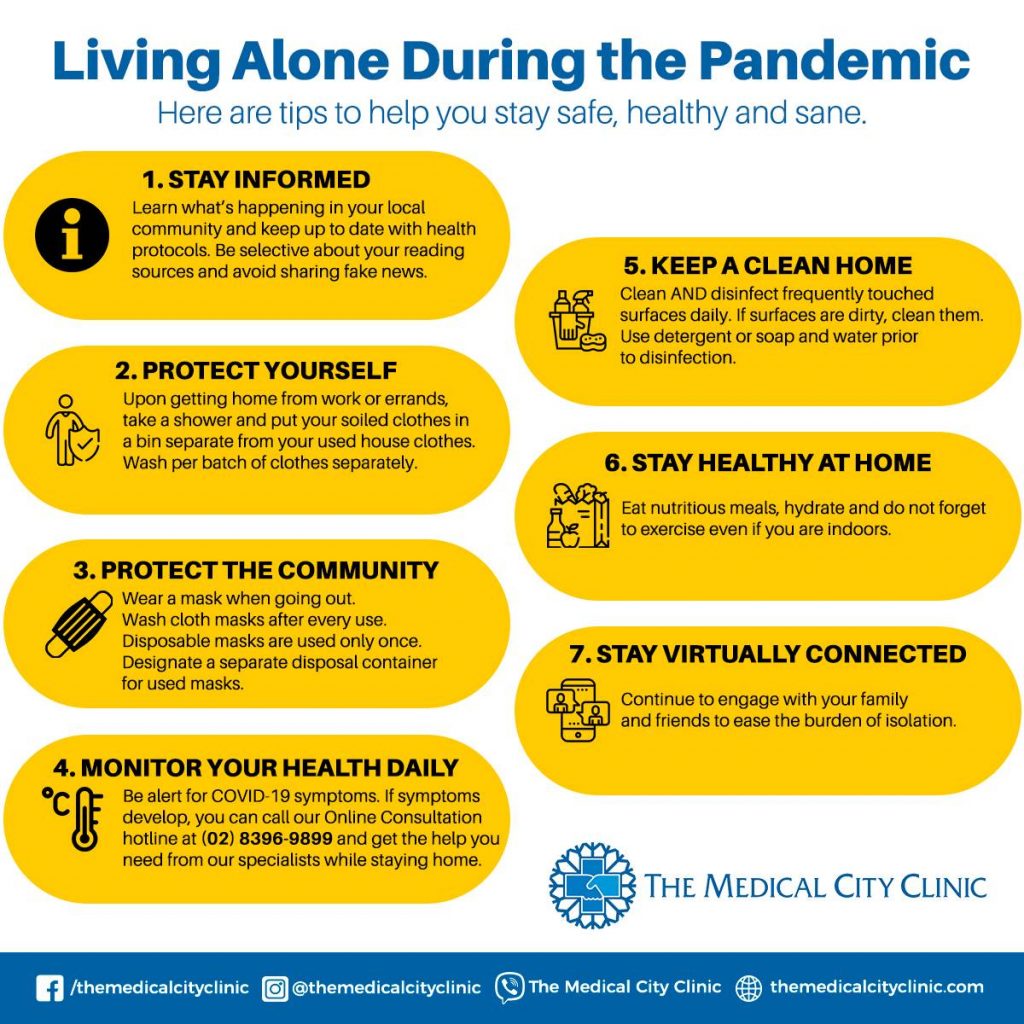 1.2 When Sharing Living Spaces
If you are like most Filipinos who are staying with their respective families or simply sharing your home, condominium or apartment with other people, then you might be facing an entirely different set of challenges during the pandemic.
For this very reason, the US Centers for Disease Control and Prevention (CDC) has issued "Guidance for Large or Extended Families Living in the Same Household". The guidelines are intended for people living together such as individuals who share a compound, a house, an apartment, or even for people who share the same room.
1.2.1 Living in the Same House With Family Members
There are many adjustments that need to be made to life at home during the pandemic. Many families are navigating uncharted waters as they deal with disruptions on daily activities of living, isolation, financial trouble and employment uncertainties.
This can also prove to be a very stressful time for individual family members who have existing health conditions and are more vulnerable to the coronavirus. It is important for individual family members to not only think of their own health at this time but to consider the welfare of the family as a whole.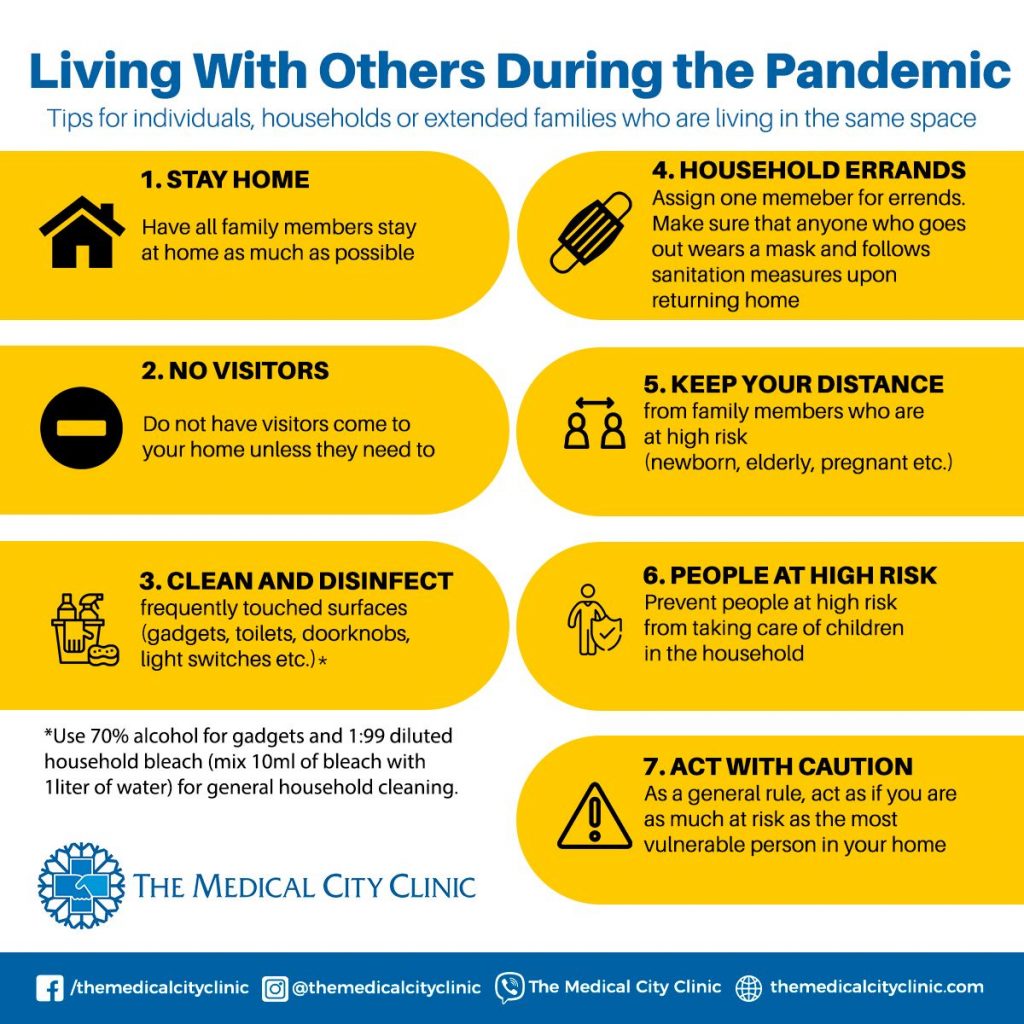 While the COVID-19 pandemic may prove to be a real challenge for families, it also brings new opportunities for you to spend more time together. Such a challenging and stressful time forces you and other members of the family to find healthy ways to cope with anxiety and other negative thoughts and feelings.
In the long run, this will increase your family's resilience to help you weather future problems and crises.
1.2.2 Living in Shared Housing With Other People
Renters and tenants who are residing in dormitories, apartments, boarding houses and other types of shared housing remain at risk during this pandemic as they live in close proximity with other people.
The development of coronavirus "clusters" in areas with shared housing has always been an area of concern among experts. And while there has been little to no documented cases of these clusters in major cities in the Philippines, other metropolitan areas like Hong Kong and Singapore have reported cases of widespread transmission of the coronavirus among individuals living in shared housing.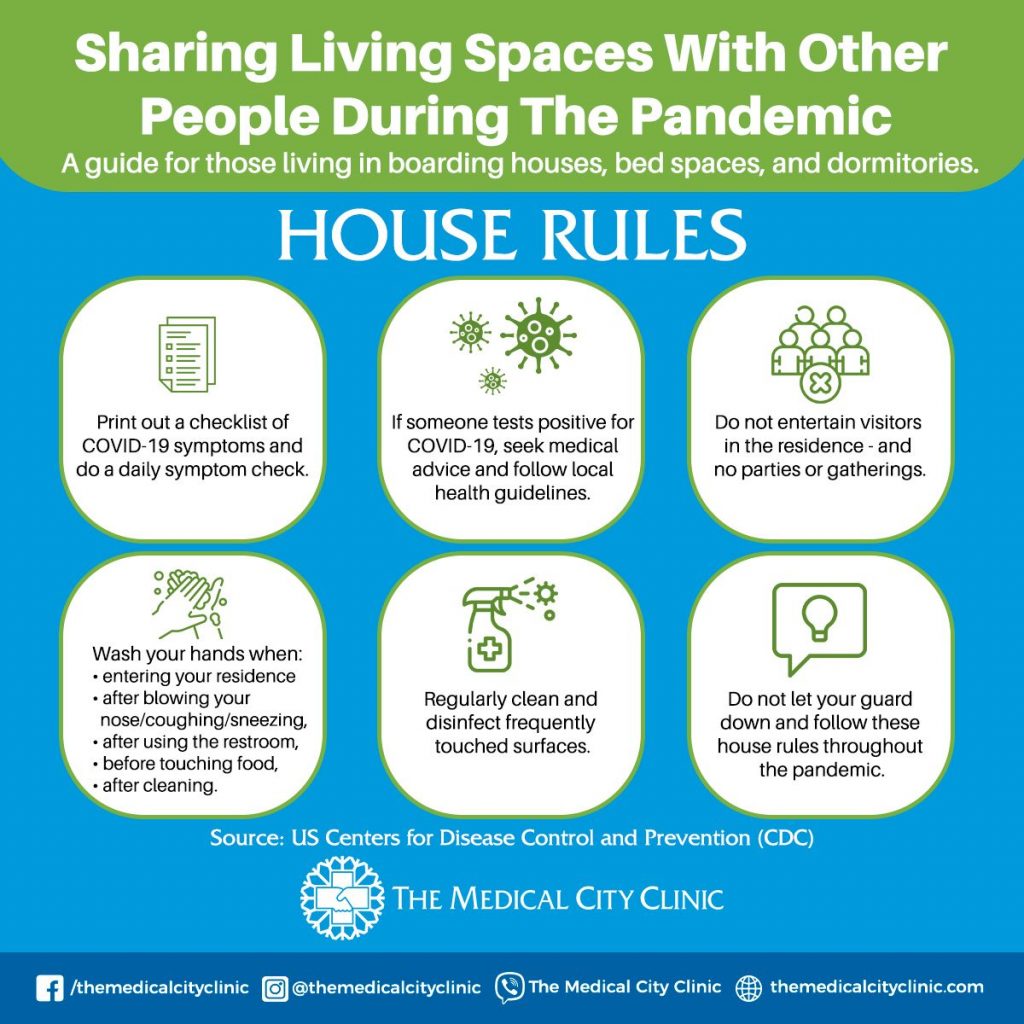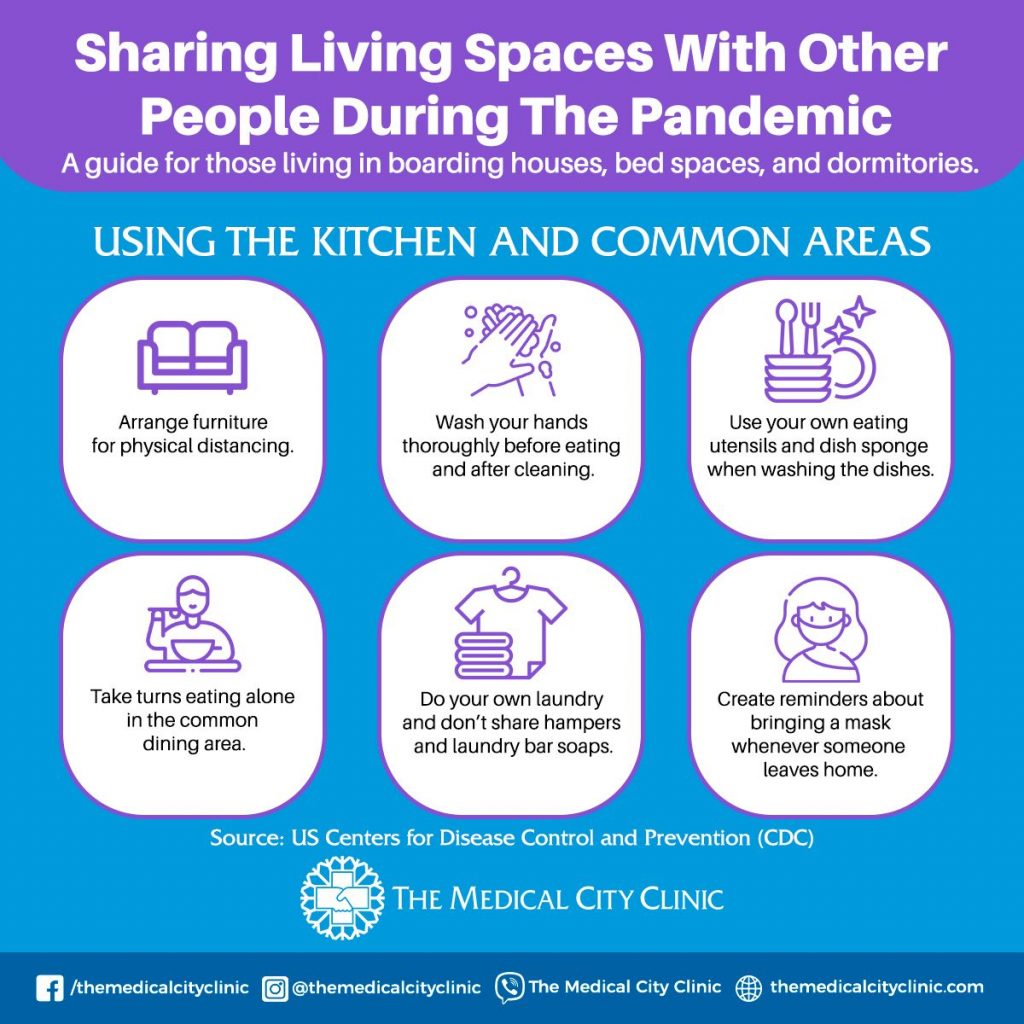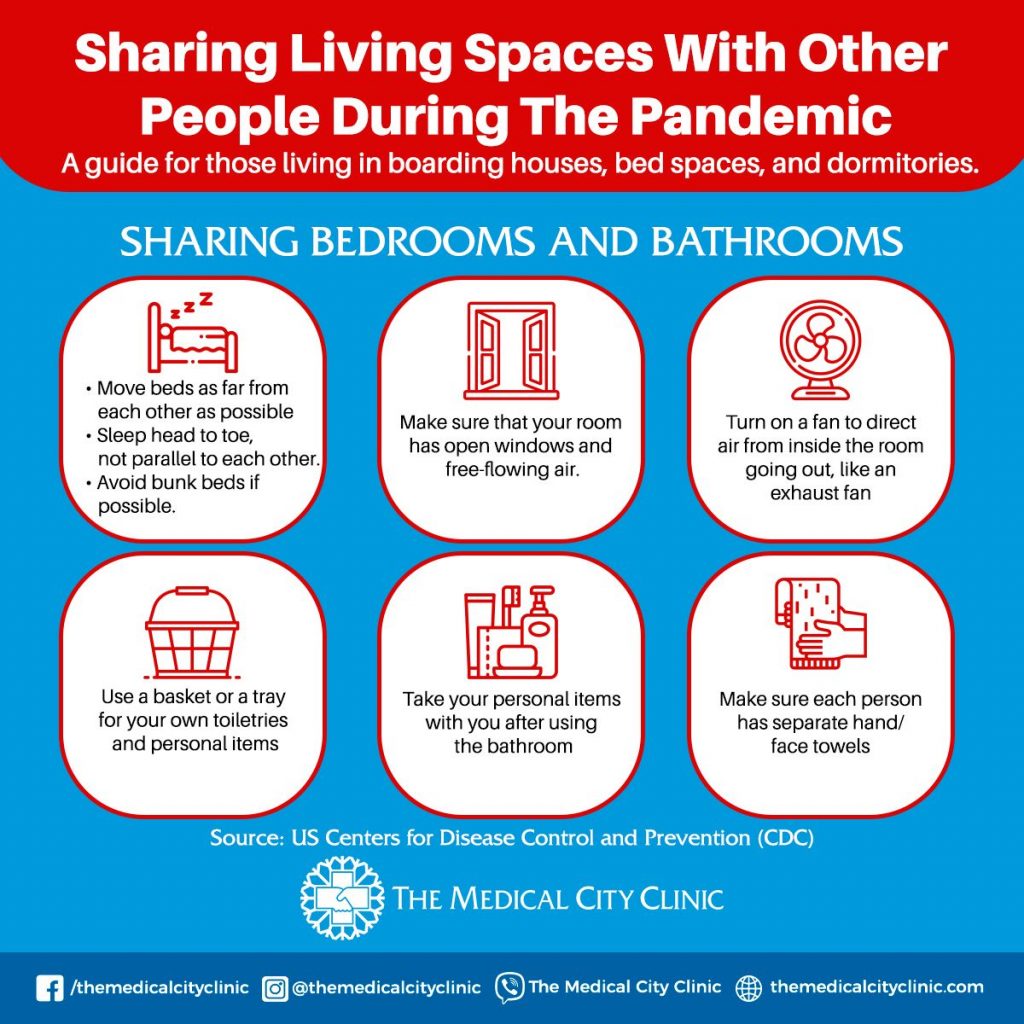 Whether you are living on your own or sharing the burden of this ongoing pandemic with your family and other people, it is important that you take all the necessary precautions to ensure your safety. Stay tuned for more practical tips of our "Living With COVID-19" series.
For Part 2, we will share #PracticalPandemicTips on how you can protect yourself when heading outside, taking your daily commute and running errands.