Last Updated on October 19, 2020
(Part 3 of The Medical City Clinic's Living With COVID-19: A Comprehensive Guide on Staying Healthy and Safe During the Pandemic – a series of practical tips and how-tos in navigating the ongoing Coronavirus pandemic.)
Taking precautions to slow down the spread of coronavirus poses new challenges for everyday tasks such as buying groceries, doing our banking errands and with tasks as simple as receiving and handling deliveries at home.
In this time of uncertainty, even the simplest and most mundane activities may turn into an anxiety-inducing ordeal that brings a lot of questions in mind: Is it safe to touch food packaging at the grocery? Do I need to spray alcohol on the ATM keypad/touchscreen before I withdraw money? What's the risk of getting COVID-19 from food deliveries at home?
To spare you from some of the complex and sometimes confusing results you might get from Googling all these questions, here is a comprehensive guide on how you can stay safe when running important errands outside your home.
3.1. Buying Food and Supplies at Stores, Groceries and Wet Market
As grocery shopping remains a necessity during this pandemic, you might have a lot of questions about how to shop safely. Before we get to the details of your trip to shop for food and supplies, it's important to note that the coronavirus appears to be transmitted mainly from person-to-person through virus particles that are spread when someone sneezes or coughs, according to the Centers for Disease Control and Prevention (CDC).
So as long you have yourself protected, you shouldn't be all that paranoid about going out to shop for essential supplies. And while the risk of transmission is always present when you are out and about, there are still steps you can take to reduce the spread of coronavirus and lower the risk of you catching it at the mall, grocery or wet market. Here's your guide to shopping safely during the pandemic: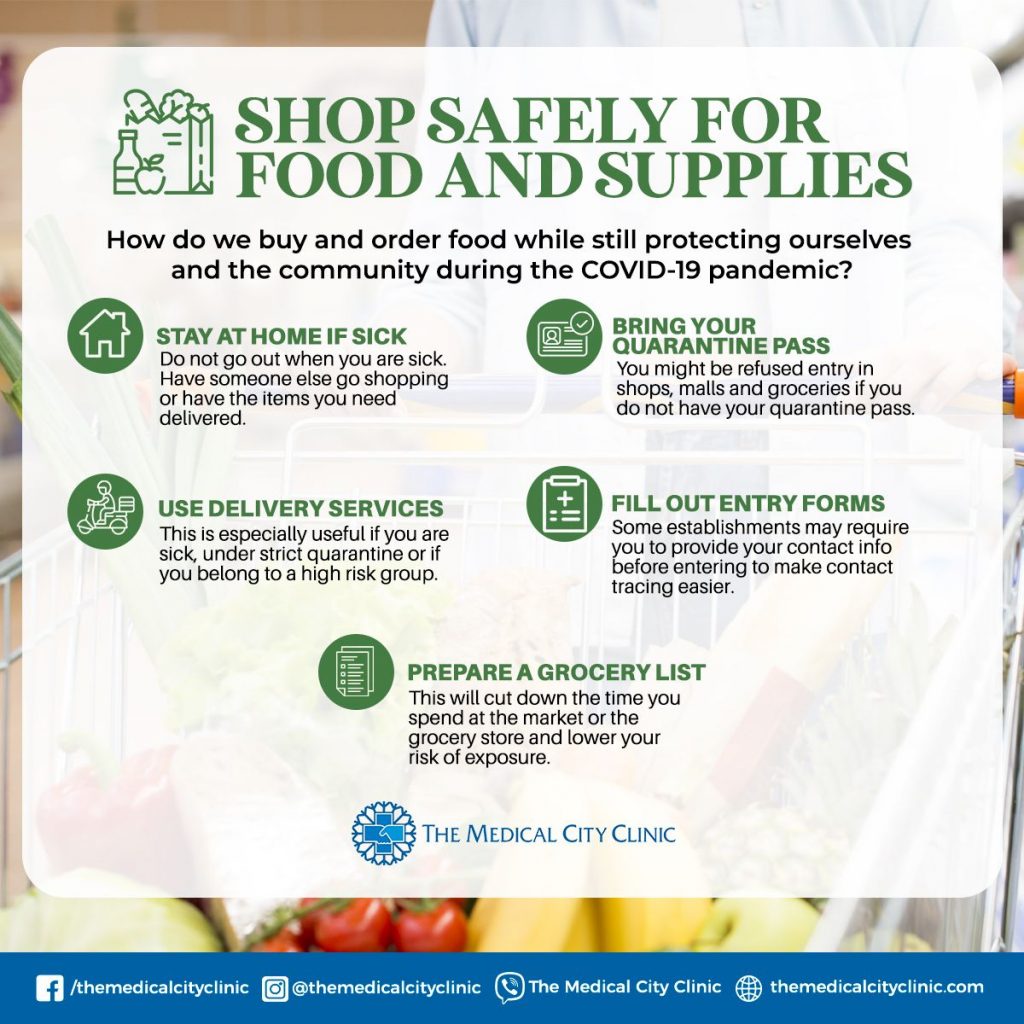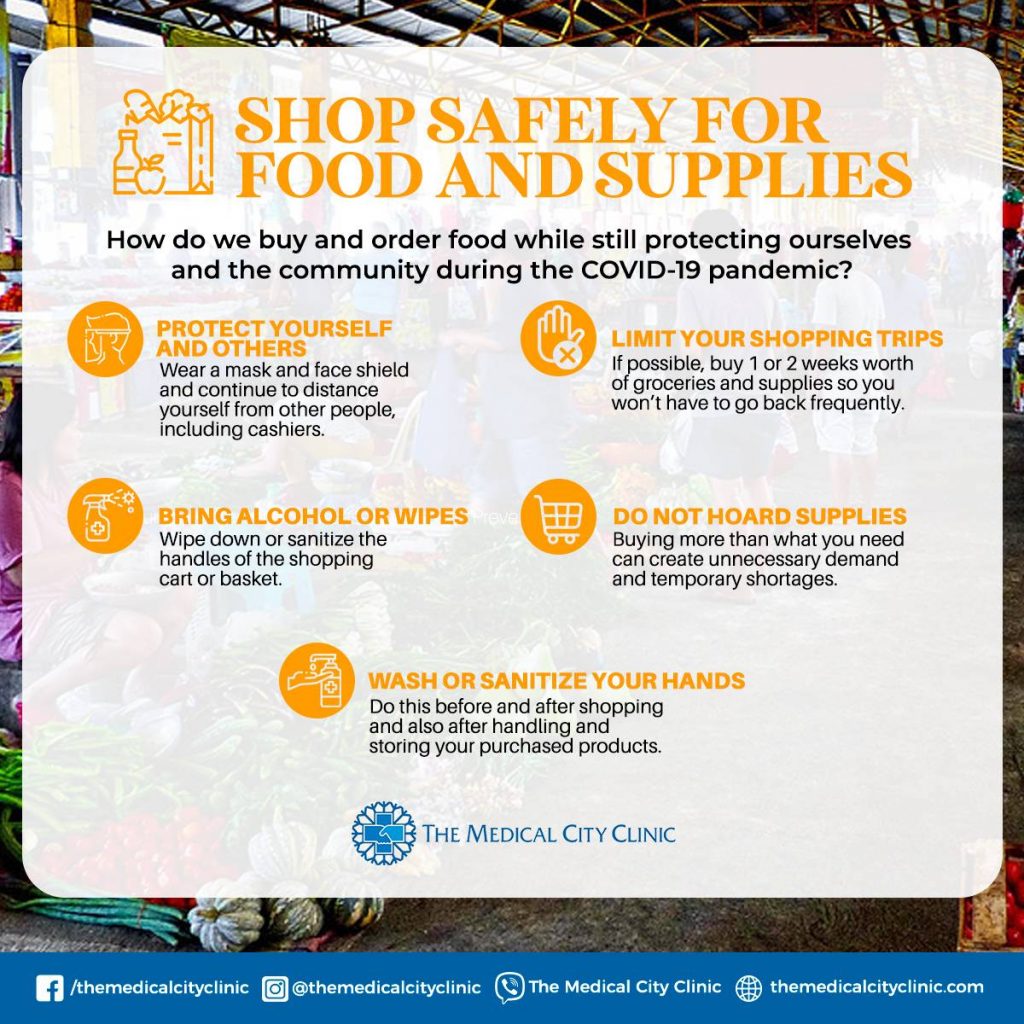 3.2. Transacting at Banks and Money Transfer Services
The use of online banking and cashless payments gained more popularity since the start of the pandemic with some local banks recording an increase as high as 160% in daily sign-ups on its online banking and mobile banking platforms.
Yet a lot of people still need to visit their banks or use money transfer services in order to withdraw/send money, pay bills and process other transactions. To keep yourself safe when running errands at your local bank or money transfer service, here are a few practical tips for you.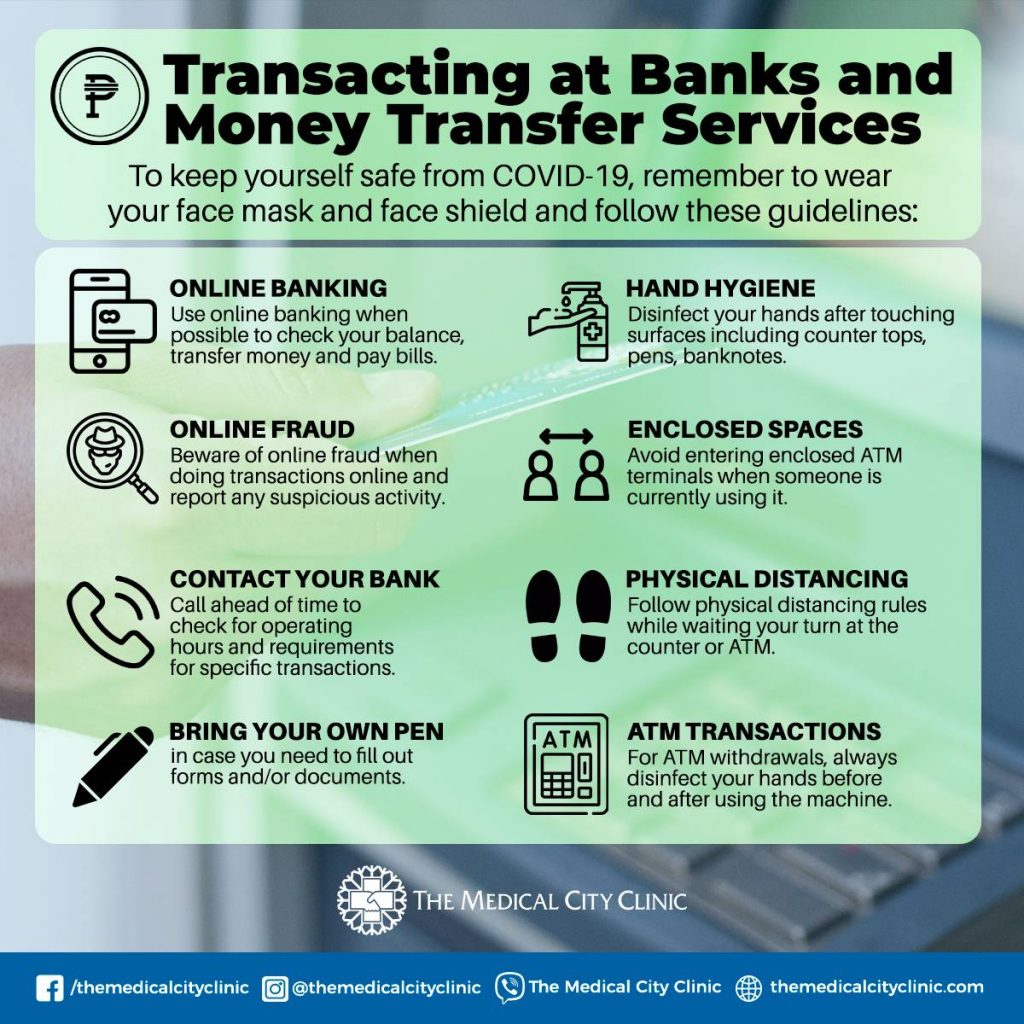 3.3. Dining Safely at Restaurants
As community quarantine restrictions are eased, businesses like restaurants and cafes also start to reopen and even accept dine-in customers. It may be tempting to just lay off your use of food delivery apps and head out with your family or friends at your favorite restaurant. Before even considering such temptation, ask yourself this question first: Do I really need to go out and eat at a cafe or restaurant?
If someone in your family has symptoms of COVID-19 or a family member belongs to a high-risk group, the answer should be a definite "NO". However, if you do not have such concerns and you simply want a change of environment by dining out, then here are some important points you need to consider.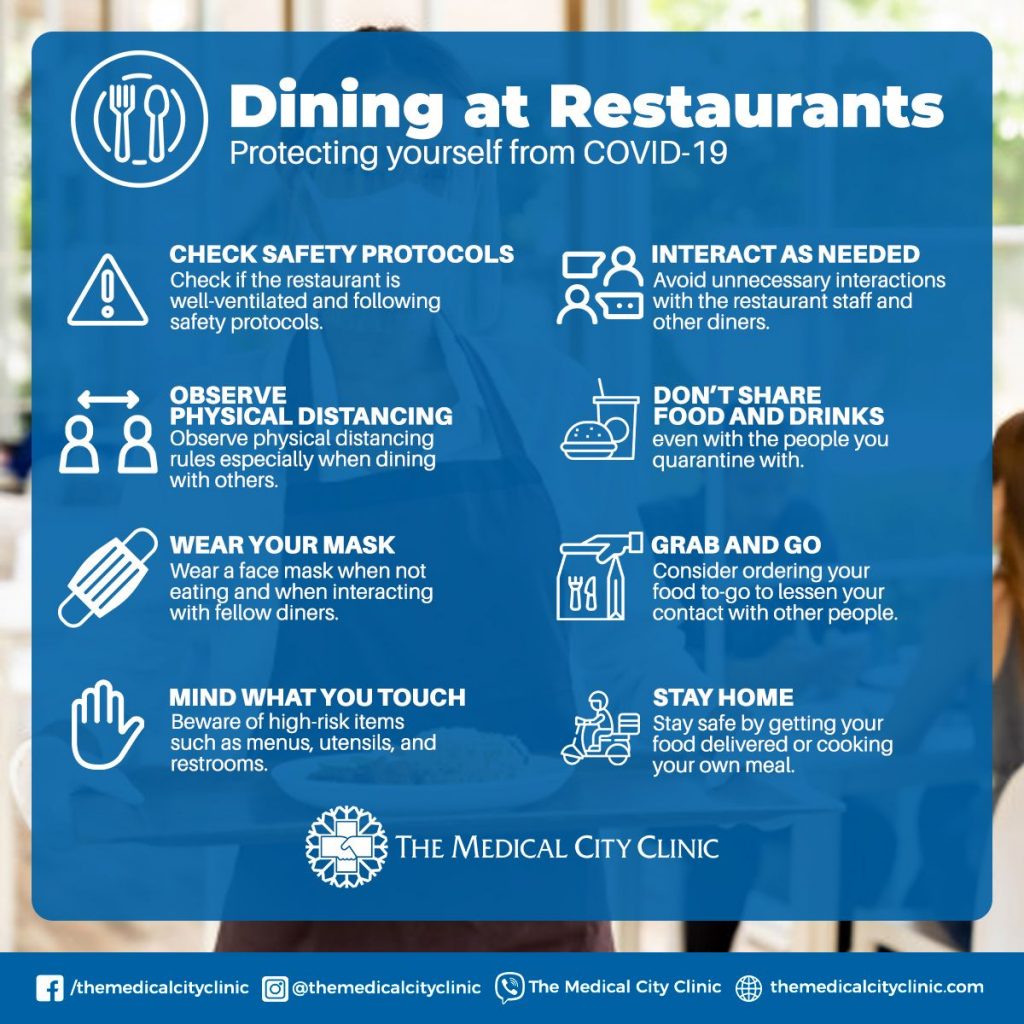 3.4. Receiving and Handling Deliveries at Home
You might have seen articles and even read studies claiming that the coronavirus can live on different surfaces. For example, on cardboard, the virus can survive for 24 hours. On plastics and stainless steel, it can survive for up to 3 days. With people receiving deliveries left and right these days, how concerned should you be about touching packaging that may be contaminated?
Infectious disease experts are still working to figure out what the infectious dose requirement is for viruses on surfaces to actually cause an infection. But as always these days, it helps to be extra cautious even with activities as simple as receiving and handling deliveries at your home.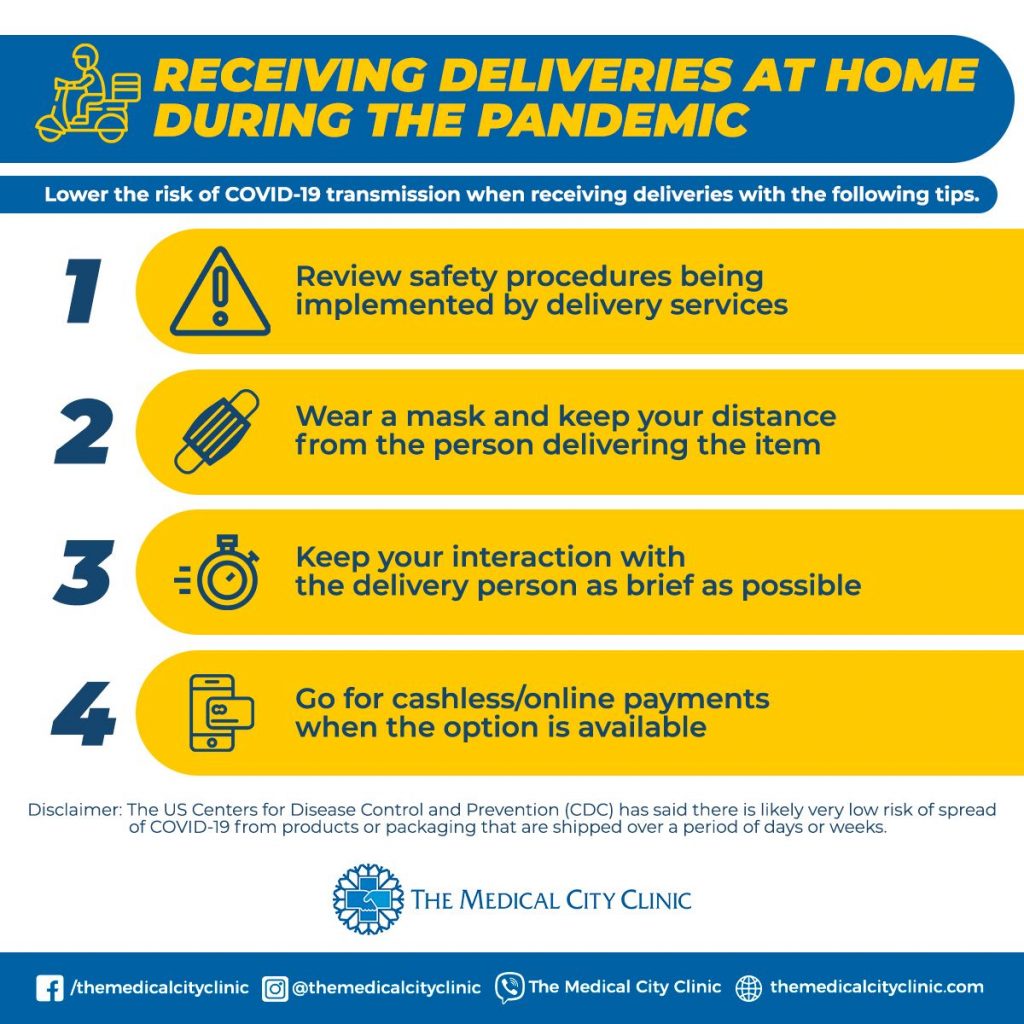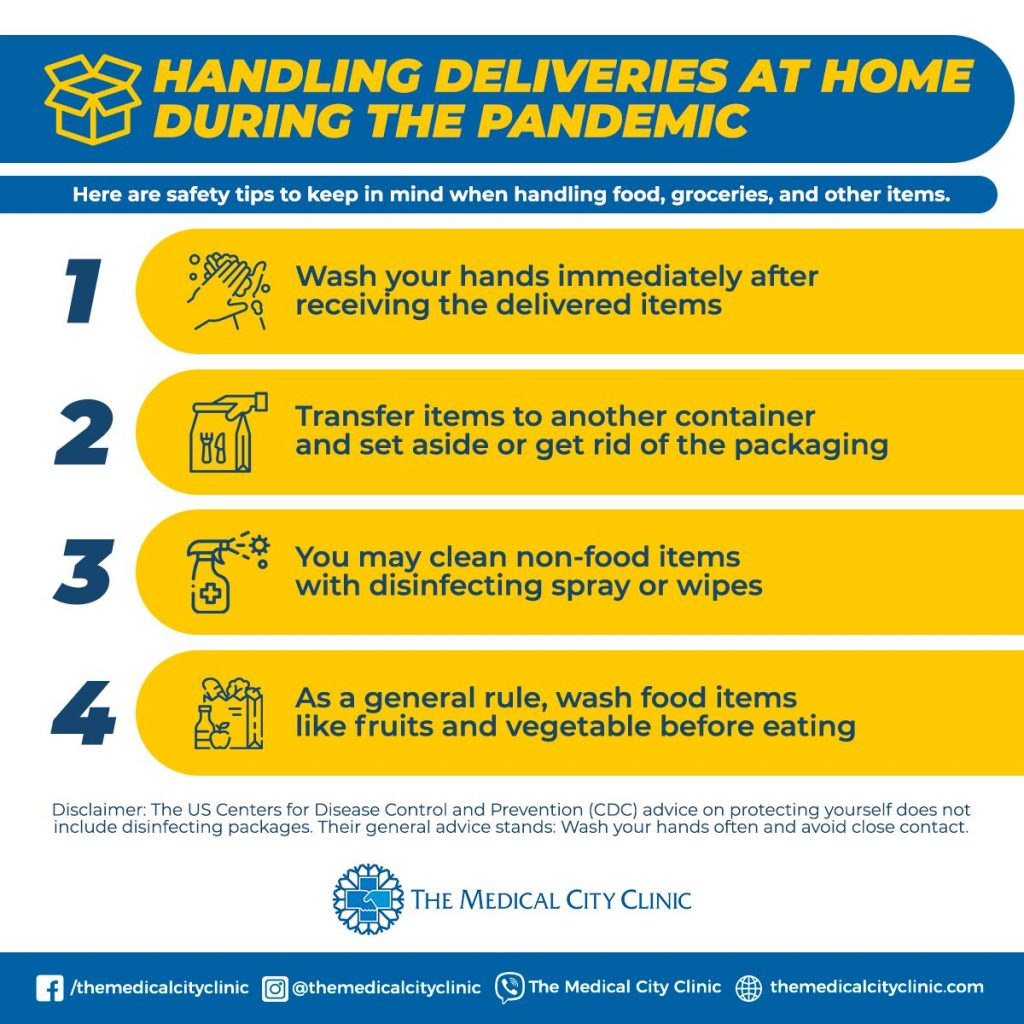 Taking these extra precautions might seem a bit much – even extreme on certain levels. But they're important to ensure your safety and your family's while you go about your day to day life.
***
Watch out for more #PracticalPandemicTips on Part 4 of our "Living With COVID-19" series. We are going to talk about providing support to people with COVID-19 including living with coronavirus patients at home and supporting your family and friends who are living in a quarantine facility.