Last Updated on March 6, 2021
In celebration of Colorectal Cancer Awareness Month this March, The Medical City's Augusto P. Sarmiento Cancer Institute conducted a webinar entitled "Colorectal Cancer Screening: Best Practices and Challenges of Cancer Screening During the Pandemic and Beyond".
Moderated by Dr. Jun R. Ruiz, the seminar was participated by various experts in the field including Dr. Theodore R. Levin of Kaiser Permanente from California, USA, who discussed the best practices of cancer screening and the challenges faced during the pandemic; Dr. Eric Tayag who talked about the recalibration of the National Integrated Cancer Control Act of 2019 (NICCA) amidst the Covid-19 pandemic; and Dr. Necy Juat who gave a presentation on the strategies in partnership in screening programs.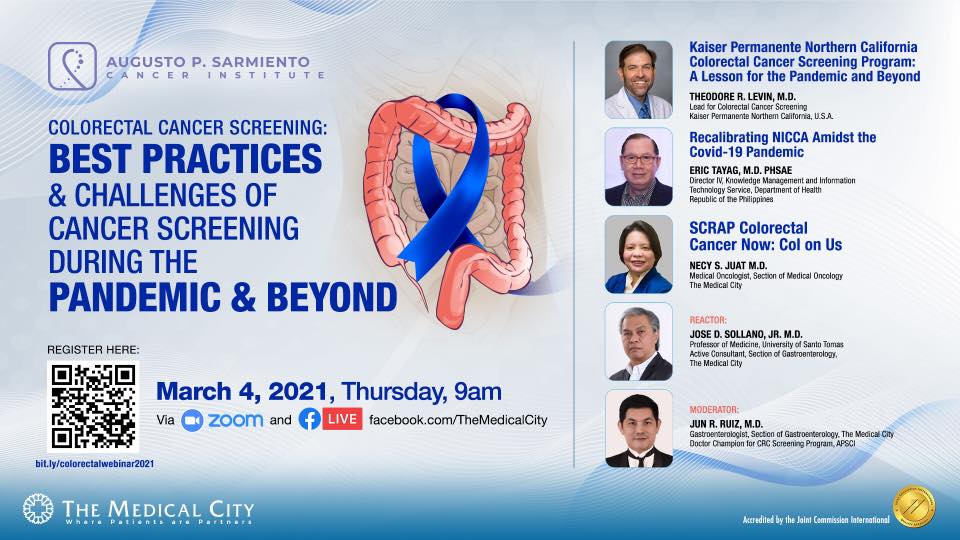 Here are some of the important insights from the said webinar:
1. Colorectal cancer is the 3rd most common cancer among Filipinos

More popularly known as "colon cancer", colorectal cancer despite being very common is also a very preventable form of cancer. However, some patients experience no symptoms at all at the early stages of the disease which is the reason why early diagnosis can be difficult.

2. Symptoms of the disease may vary based on different factors

The most common symptoms include rectal bleeding, changes in bowel habits like the occurrence of diarrhea and constipation, abdominal pain, bloating, anemia, and unintentional weight loss.

3. There are several factors that increase someone's risk of colon cancer

This includes being age 50 or older, having a family/personal history of colon cancer, lifestyle habits such as alcohol consumption, smoking and obesity and unhealthy diet.

4. Early detection significantly increases survival rate

The 5-year survival rate when colorectal cancer is detected at Stage 1 is at 93%, Stage 2 at 60%, Stage 3 at 35 to 60% and Stage 4 at 10%.

5. You can get screened for colon cancer as early as 40 years old

This is recommended if you have a family history of the disease.For average risk patients, the screening guidelines recommends individuals to start getting screened at the age of 50.

6. Colonoscopy is the best way to screen for colon cancer

Considered the gold standard in colon cancer screen, colonoscopy involves using a long, thin, flexible, lighted tube with a camera to check for polyps or cancer inside the rectum and the entire colon.

7. There is a less invasive way to screen for colon cancer

The fecal immunochemical test (FIT) is a screening test for colon cancer which checks for hidden blood in the stool from the lower intestines. This finding can be an early sign of cancer.