Last Updated on August 20, 2020
With different levels of community quarantine still in place all over the country due to the COVID-19 pandemic, people are spending more time than ever at home. Having access to all sorts of food and snacks nearby plus stress and anxiety thrown into the mix – it is easy for a lot of people to fall into unhealthy habits especially those that are related to your diet.
In a survey that we conducted last July as part of our Nutrition Month celebration, we asked our social media followers about their most common food cravings this quarantine period. The answers we got are pretty much what we expected.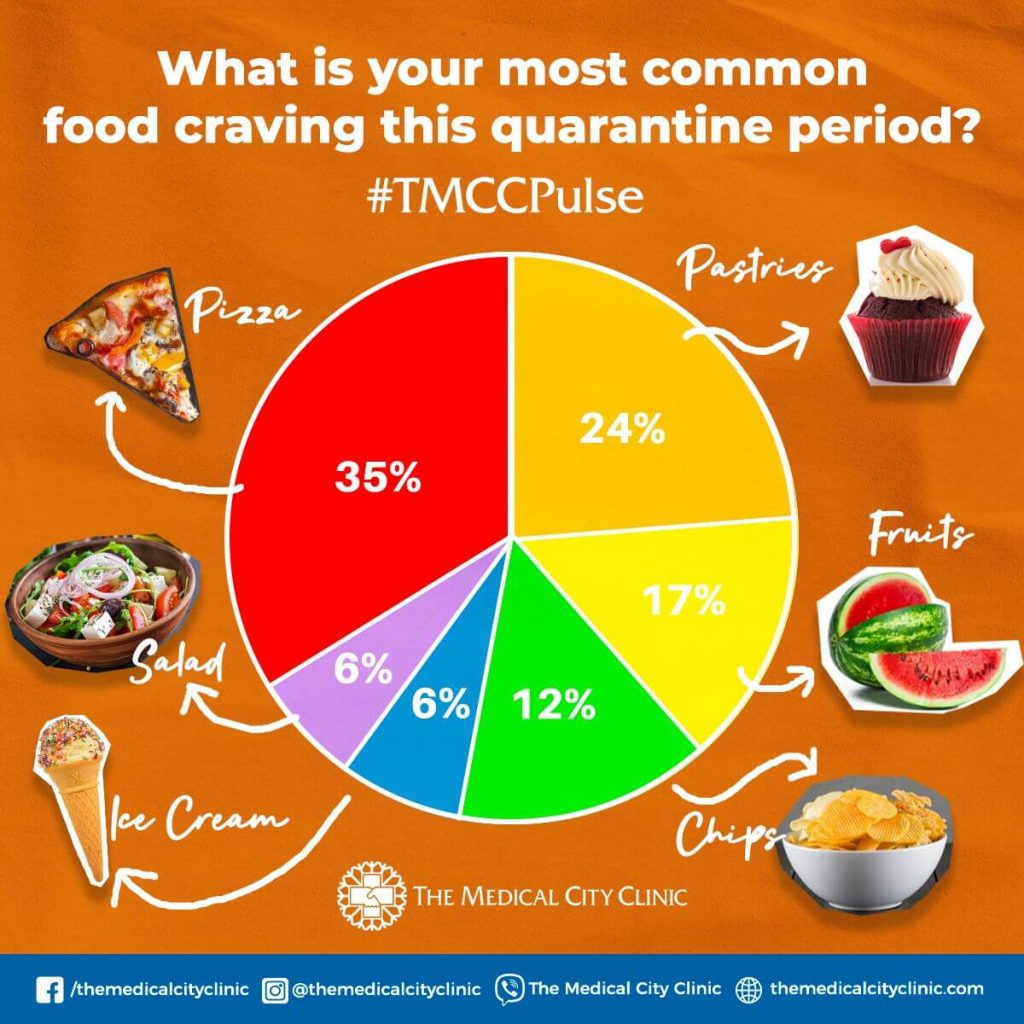 To lessen the risk of exposure to COVID19, the pandemic has forced everyone to stay home and limit trips to essential errands only. People became inclined to stick to their comfort food and just order food delivery or buy takeout for sheer convenience. Others have ventured into cooking and baking as a newly discovered hobby or just a way to pass time and take their mind off some of the pressing issues today.
But with a disease like COVID-19 still on the loose, there are more incentives and practical reasons for you to conquer your cravings in order to stay fit, healthy and ready to fight diseases.
Here are 6 things you need to keep in mind in order to develop better eating habits during the pandemic.
1. Plan Your Meals
There is nothing like good meal planning to ensure that you actually buy healthy ingredients and help you prepare more nutritious meals.
Before you even go grocery shopping, make sure that you already have the meals for the next week or two in mind. Make an active effort to properly plan meals for you and the family. The internet is a treasure trove of healthy and delicious meals that are waiting to be discovered.
2. Use Fresh Local Produce
There is nothing like fresh and locally-sourced ingredients to get you started on your journey to a healthier diet. Fresh ingredients are key to keep your palettes off processed foods like canned goods, instant noodles and other unhealthy indulgences.
Also, try to stick with fruits and veggies that are grown in or around your immediate area. Not only are they fresher and cheaper but buying them will also go a long way in helping local farmers and vendors. It's a total win-win situation – you get healthier food while you get to support your local economy.
3. Keep It Simple
If you are one of those people who refuse to cook your own meals and just end up consuming all those "instant" food and drinks, here's some news for you: preparing healthy meals isn't that difficult. Just do a quick search for "10-minute meals" on the internet and you'll discover hundreds – if not thousands – of healthy meal ideas that you can prepare in no time.
Sticking with simple dishes will ease you into the idea of preparing your own healthy meals which will eventually lead to more elaborate and complex dishes in the long run.
4. Practice Mindful Eating
If you have been eating constantly until you are overly full, if you find yourself consuming food without really tasting it or if you don't pay attention to the foods you are eating then you have been consuming food mindlessly.
Mindful eating requires you to do the opposite. In essence, mindful eating means being fully attentive to your food—as you buy, prepare, serve, and consume it, according to Harvard nutritionist and lecturer Dr. Lilian Cheung.
5. Set a Meal Schedule
Apart from planning your meals and practicing mindful eating, one of the practical ways for you to whip up your eating habits into better shape is to set a meal schedule.
Several studies suggest that eating at a consistent time each day not only helps keep your digestive system in top shape but it also improves your overall diet, making you less prone to indulging in unhealthy food – like sugary drinks and snacks.
6. Don't Forget to Exercise
If you plan on keeping yourself in tip-top shape during the pandemic – which you really should be doing – then it's best to pair up your diet and newly developed healthy eating habits with exercise.
Preventive healthcare measures like a healthy diet and proper exercise are more important than ever. These can both have huge benefits on your overall health, and can be some of the main factors in preventing and fighting disease while preventing other complications that may arise later in life.
For more tips of how you can #StayWell and #StaySafe during the COVID-19 pandemic, follow us on Facebook and Instagram. You can also join our growing Viber Community to get practical advice on how you can live your best life in these trying times.