Last Updated on August 29, 2020
(Part 2 of The Medical City Clinic's Living With COVID-19: A Comprehensive Guide on Staying Healthy and Safe During the Pandemic – a series of practical tips and how-tos in navigating the ongoing Coronavirus pandemic.)
Experts say that the best way to protect yourself and others from COVID-19 is to stay at home. But some people still need to go out of their home – commute to work, go grocery shopping or run important errands.
As the country eases out its restrictions, we expect to see more people go about their way through the available public transport or through other means like private cars, bikes and motorcycles. Yet the question needs to be asked: How do you ensure a safe commute during the COVID-19 pandemic?
The bad news is, there is always a risk of getting sick when going out and about in the "outside world" – the extent of which depends on many factors. But the good news is that keeping yourself coronavirus-free isn't an all-or-nothing game. There are still many ways that you can protect yourself and significantly lower the risk of contracting COVID-19 when heading out.
2.1. General Guidelines When Using Any Type of Transportation
Just a few months ago, it was difficult to think that going out and commuting could potentially endanger one's health. And yet, we now live in a world where commuting is less about getting from point A to point B at the shortest time possible and more about safety and self-preservation.
Even as the current pandemic drags on, one way or another, people need to get around. If you are commuting in order to go to work, to seek medical care, to run errands or for other reasons, the US Centers for Disease Control and Prevention recommends following general guidelines as well as certain specific guidelines related to your particular mode of transportation.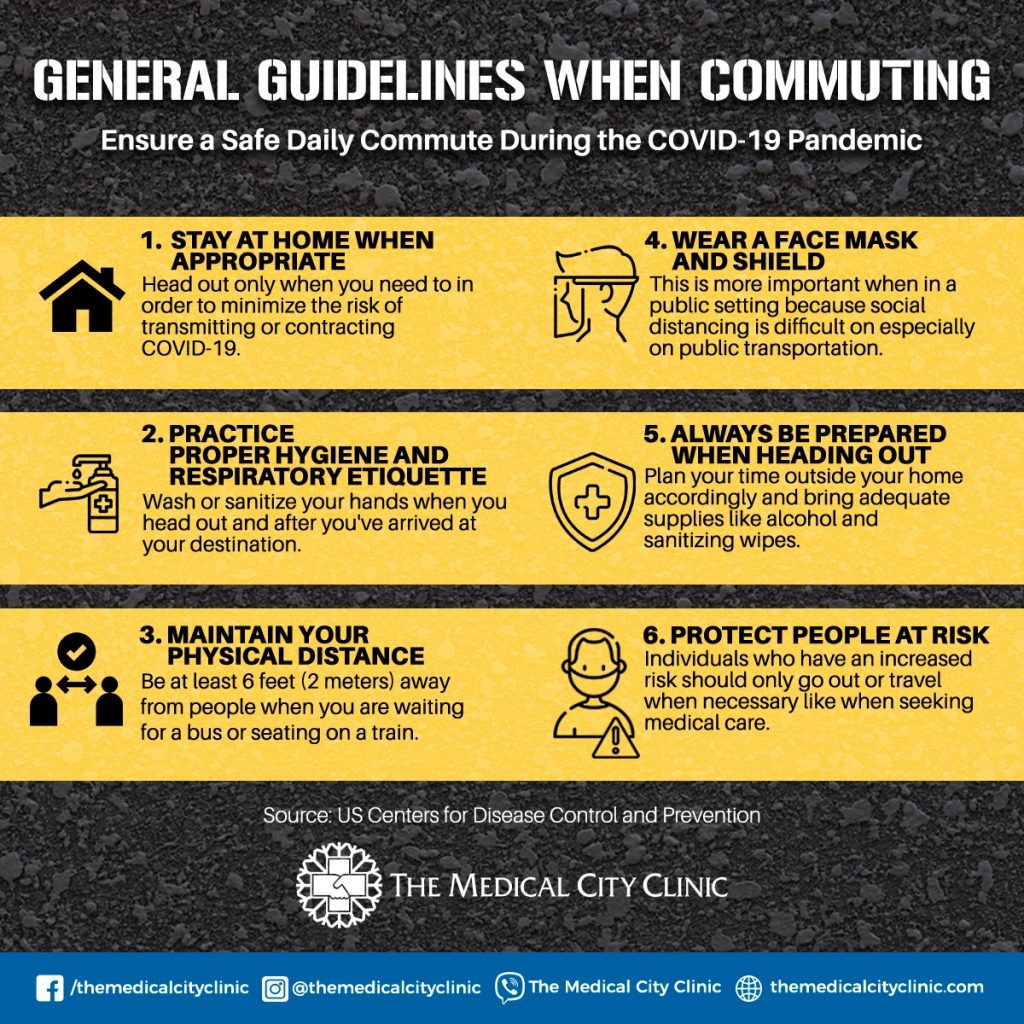 2.3. Taking Public Transportation
It wasn't too long ago that we traveled on trains, buses and jeepneys shoulder to shoulder, enduring cramped public transportation just so we can get to work or wherever we need to be. Not everyone has a car or the ability to bike to work. That is why for most of us, there is no other choice but to take public transportation.
And while trains, buses, jeepneys and other forms of mass transportation can be terrifying because you are enclosed in a small space, there should be little to worry about if you follow these safety tips.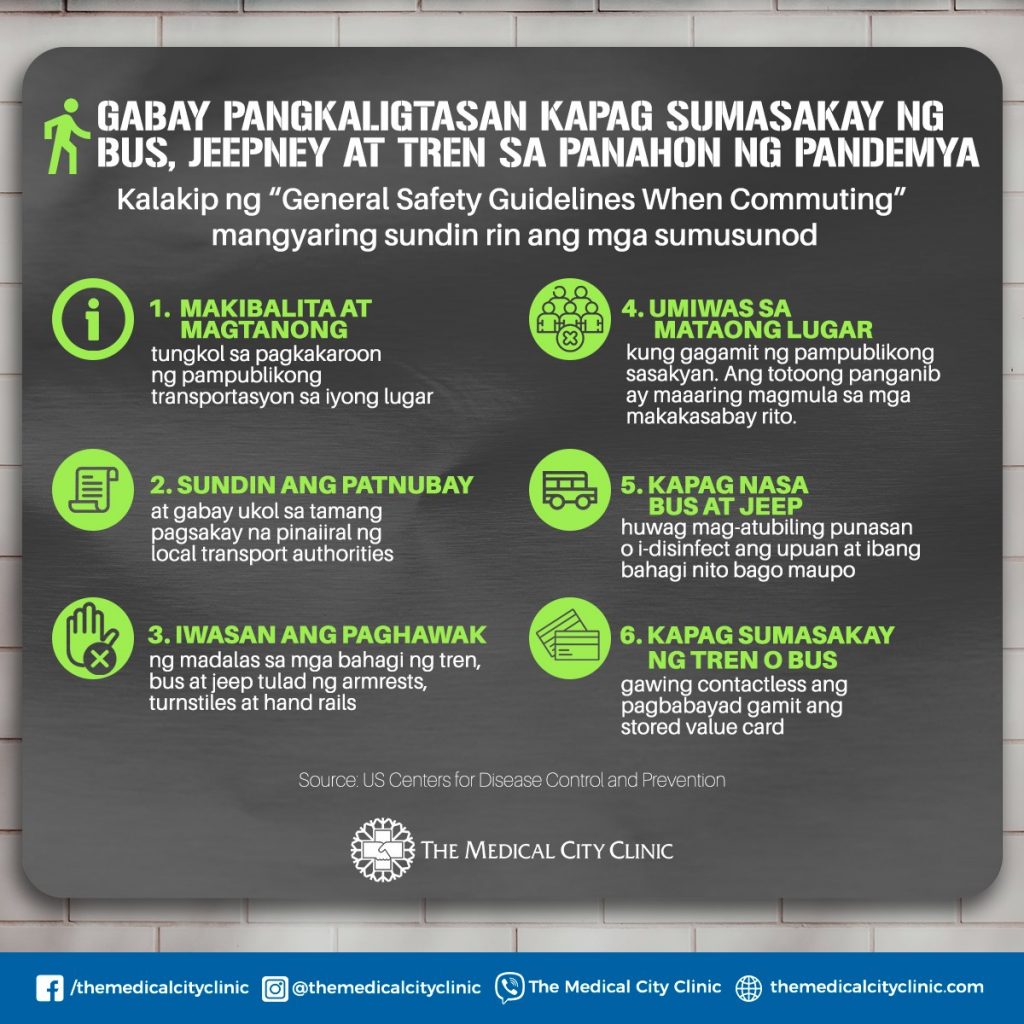 2.3. Riding Your Bike or Motorcycle
The use of motorcycles is a very common way to travel around in both urban and rural areas in the country. According to one source, there are 12,725,305 registered motorcycle units in the Philippines as of 2019.
The COVID-19 pandemic popularized another form of transportation – biking. If you have been biking to work, to run errands or purely for leisure since the pandemic has started then you are not far from being the only one.
With the scarcity of public transit and the fear of many from taking available trains and buses to their destination, biking provides a viable, affordable and healthier alternative compared to other forms of transportation.
If you are a biker or a motorcycle rider, then here are important safety precautions you need to remember.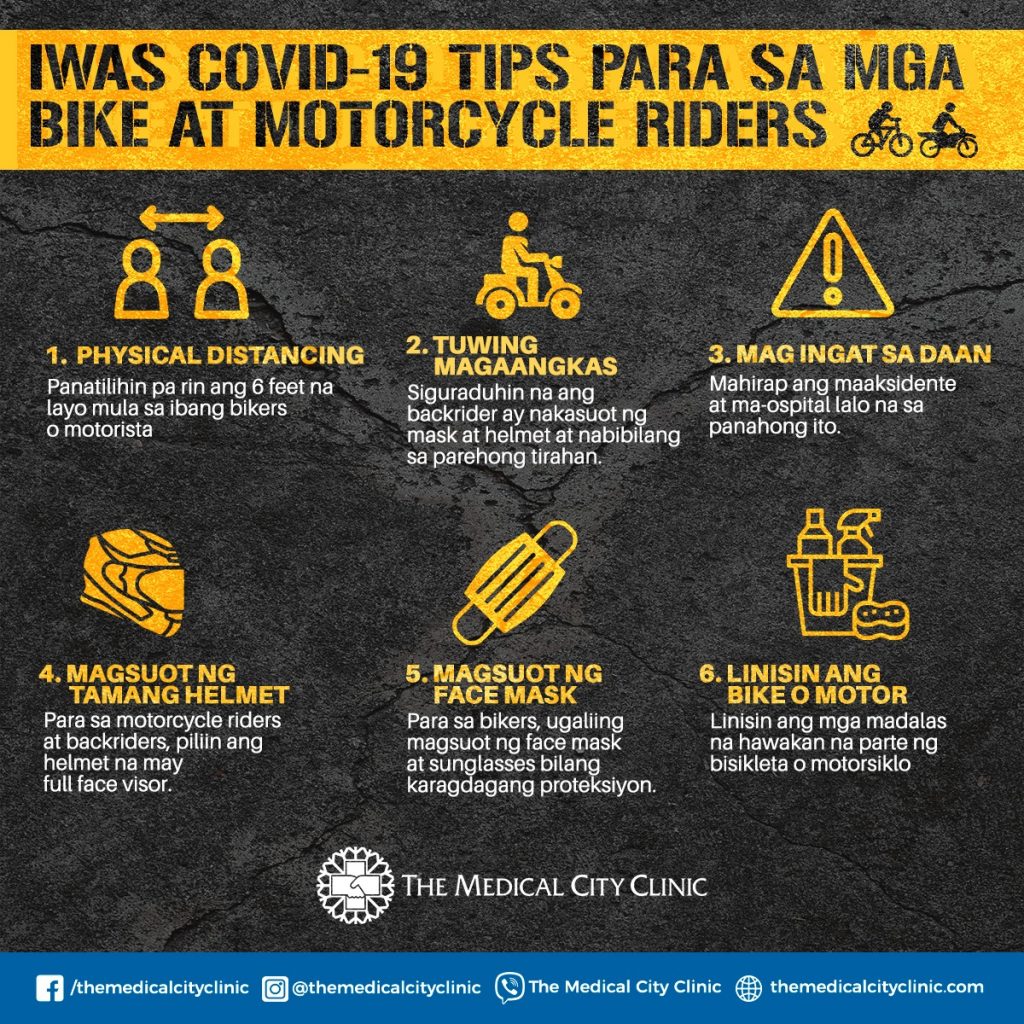 2.4. Commuting On a Private Car, Taxi or Ridesharing Service
Gone are the days when extreme traffic was your only concern when driving around in a car. Nowadays, there's the same old stress-inducing traffic and a deadly pandemic to boot.
Although taking a car can reduce the risk of COVID-19 infection compared to taking public transport, you should never let our guard down during the pandemic. Whether you are driving in a car on your own, taking other people with you from point A to point B or using taxi and ridesharing apps to get around, there are still very important precautions you need to follow in order to safeguard yourself from COVID-19 transmission.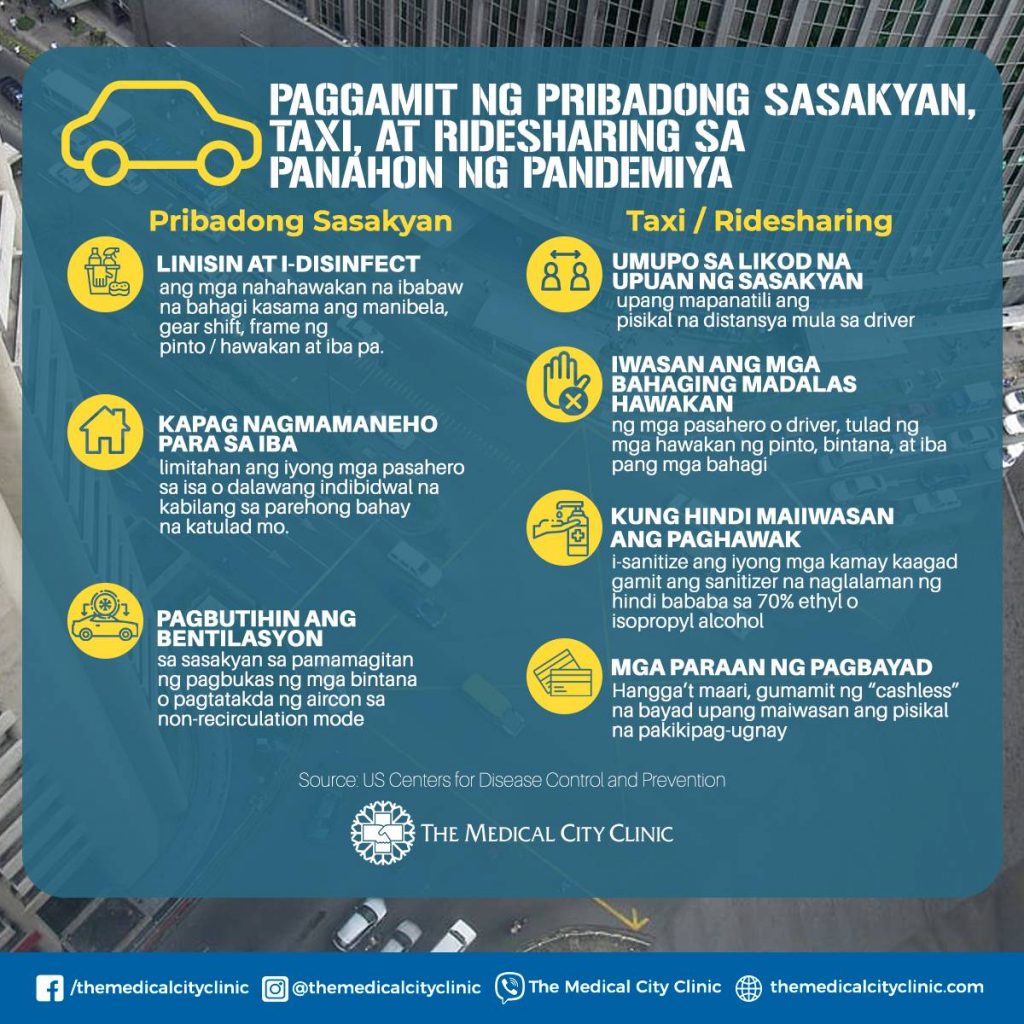 Following specific safety precautions to reduce the risk of contracting the coronavirus while commuting may be difficult for you in the beginning. But rest assured that with time, patience and practice, you will eventually get used to it. Soon enough, all these safety measures will become your habit.
***
Keep an eye out for more practical tips of our "Living With COVID-19" series. For Part 3, we will be sharing more #PracticalPandemicTips on how you can protect yourself when shopping, buying groceries and running errands.